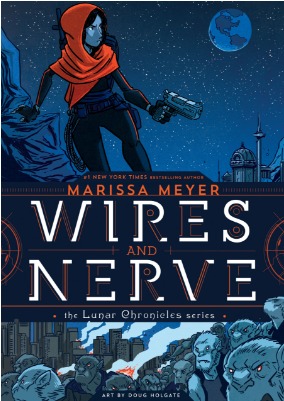 Everyone who knows my reading habits knows that I discovered the
Lunar Chronicles
series last year and absolutely fell in love with Cinder, Scarlet, Cress, Winter, and Iko. I even got to meet Marissa Meyer when she came to MY LIBRARY in October. One of my most treasured possessions now is my autographed copy of
Stars Above
.
So, to say that I've been eagerly awaiting more from the
Lunar Chronicles
universe is a huge understatement. This new story, that takes place seven months after the end of Winter, centers on the often forgotten character of Iko, the android who has a mind of her own. She adores romance, beautiful clothes and makeup, and wants the best for her friends, especially Cinder. In this story, told in graphic novel form, Iko takes it upon herself to neutralize the threat of the leftover wolf-hybrid soldiers on Earth. Iko is a great new heroine. She's tough, sarcastic, and just a lot of fun to read.
I only wish that the graphic novel was more colorful instead of two-tone, and that all the men didn't look exactly alike. I hate that I can't tell the difference between Carswell Thorne (my favorite male character) and Lt. Kinney. Though I'm somewhat disappointed over the art, I love the story, and I am excited that it is a multi-volume series. I can't wait for Volume 2!
***PSA*** This is not for people who have yet to read the
Lunar Chronicles.
Though they try to have a bit of an introduction at the beginning, it's not enough to really comprehend what is going on without having read the books first.
This book fulfills the following challenges:
2017 Full House Reading Challenge: USA/Canadian Author
2017 PopSugar Reading Challenge: Book With Pictures